Another Donald Trump rally, another protest turns violent
Comments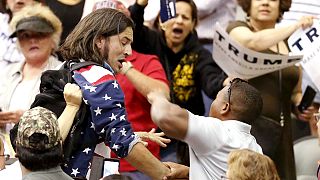 The latest US presidential campaign meeting held by the Republican frontrunner in Tucson, Arizona was disrupted by two demonstrators, one of them a woman wearing a Klu Klux Klan hat.
The other protester, a man received some special treatment, kicked and punched by a member of the crowd, apparently a Trump supporter.
VIOLENCE at another Donald Trump rally, this time in Tucson, AZ. Man hits and kicks protester: pic.twitter.com/7FWuSeE0Jt

— Frank Thorp V (@frankthorpNBC) 19 March 2016
The man who meted out the attack was led away by police – while the protester said Trump was associating himself with violent extremists.
"Donald Trump is perfectly welcome to go ahead and run for president what he's not welcome to do is suggest that everybody who opposes him should be violently attacked, that he should be handed the presidency outside of the rules of his own party," Bryan Sanders said afterwards.
The scuffle – reportedly one of several interruptions at the meeting – was the latest trouble in several Trump rallies that have grown increasingly unruly.
Outside, protesters blocked a highway leading to the venue.
Arizona, another state where parties will hold primaries on Tuesday, is a flashpoint for illegal immigration from Mexico which the tycoon has made a prime issue in his campaign.
THANKYOUARIZONA! Get out and #VoteTrump on Tuesday! #AZPrimary#MakeAmericaGreatAgain#Trump2016pic.twitter.com/5itxkQxrLF

— Donald J. Trump (@realDonaldTrump) 20 March 2016