After Chicago scuffles Donald Trump denies cancelling his latest rally in Ohio
Comments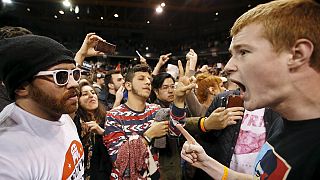 Donald Trump has denied cancelling a campaign rally in Ohio on Saturday a day after violent scenes at an event in Chicago between his supporters and opponents.
A spokesman for the Republican party front-runner had been quoted by local media as saying Trump's secret service security detail could not complete its preparation work in time for a planned event in Cincinnati. A spokeswoman for Trump's campaign later rejected this claim.
Trump abandoned a similar rally in Chicago (Illinois) on Friday, citing "safety reasons."
Both Ohio and Illinois are holding Republican party primaries on Tuesday, March 15.
Protests broke out before the billionaire businessman had even arrived at the arena at the University of Illinois.
A campaign statement said the event would be rescheduled for a later, unspecified date.
The organized group of people, many of them thugs, who shut down our First Amendment rights in Chicago, have totally energized America!

— Donald J. Trump (@realDonaldTrump) March 12, 2016
Windy City Scuffles
Police moved in to defuse the situation as attendees from the pro- and anti-Trump camps began to scuffle in Chicago.
Activists reportedly spent the week preceding the rally working on a plan to disrupt it.
No stranger to hostility
Trump, a contentious character, had experienced disruptions at an earlier rally in St Louis, Missouri, although it still went ahead. He used that occasion to thank former rival Ben Carson for his endorsement.
The real estate mogul is no stranger to hostility. At an event in New Orleans a week earlier, demonstrators supporting the Black Lives Matter movement were forcibly removed from the venue.