Anti-Trump protesters clash with police at Utah rally
Comments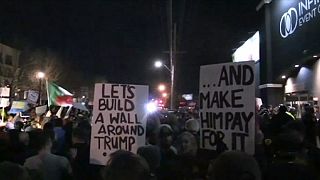 Donald Trump has said he believes he can secure enough backing to win the Republican US presidential nomination outright – and avoid a difficult selection process by delegates at a special convention.
He was speaking at a rally in Utah ahead of the state's caucus next Tuesday.
Outside the venue in Salt Lake City anti-Trump protesters clashed with police.
Recent outbreaks of violence during protests at his rallies have prompted criticism of the billionaire from Democrats and Republicans.
Trump said he had more supporters than opponents at the rally and he would not let his campaign be "stifled".
Just leaving Salt Lake City, Utah- fantastic crowd with no interruptions.
Love Utah- will be back!

— Donald J. Trump (@realDonaldTrump) March 19, 2016
If no candidate can assemble 1,237 Republican delegates by July, the party's presidential nominee for the November election will be chosen by convention delegates in Ohio.
Trump, who has won 678 delegates so far, has continued to score victories in the state-by-state nominating process as Republicans have failed to unite behind rival candidates Ted Cruz or John Kasich.
On Friday the Republicans' 2012 presidential candidate Mitt Romney recommended voting for Cruz to prevent Trump from securing the nomination, accusing the frontrunner of encouraging racism, misogyny and violence.
Trump responded by tweeting that Romney was "a mixed-up man who doesn't have a clue. No wonder he lost!"
This week, in the Utah nominating caucus, I will vote for Senator Ted Cruz. https://t.co/e2lAkWrt4l

— Mitt Romney (@MittRomney) March 18, 2016
Failed presidential candidate Mitt Romney, the man who "choked" and let us all down, is now endorsing Lyin' Ted Cruz. This is good for me!

— Donald J. Trump (@realDonaldTrump) March 18, 2016