Shiffrin stuns, but Hansdotter takes slalom title in St. Moritz
Comments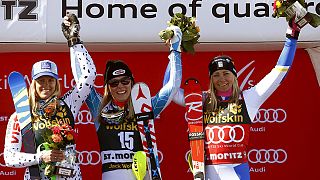 In the women's final slalom event of the season the championship's early pacesetter once again stamped her authority on the rest of the field to record her fifth victory of the season.
America's Mikaela Shiffrin was untouchable, winning the event with a huge 2.3 second margin with speed that her competitors couldn't match. But it was not enough to deny Sweden's Frida Hansdotter the title. An injury that meant she lost two months of World Cup racing cost her dear.
Veronika Velez Zuzulova finshed second, and finished the year in the runners-up spot for the Crystal Globe.
Hansdotter, the champion, finished third, her seventh podium finish in 10 races. Over the season she was never out of the top 10, and that consistency won her the crown, and the Crystal Globe.