Russia plane crash: Flydubai says 'too early' to determine cause
Comments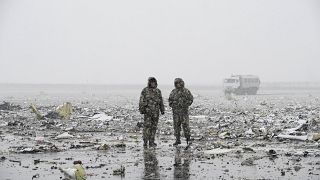 Aviation experts are investigating what caused a passenger jet to crash as it tried to land in southern Russia, killing all 62 people on board. Most of those on board were Russian, reportedly holidaymakers.
Russian officials say both of the plane's flight recorders have been recovered undamaged.
Some 700 emergency workers went to the scene of the crash on Saturday – where amid falling snow, wreckage lay strewn across a wide area.
The Boeing 737-800, operated by Emirates-based budget airline Flydubai, came down at Rostov-on-Don amid difficult weather conditions at the end of a flight from Dubai.
Investigators are examining various possible causes, including human error, a technical failure and bad weather conditions.
Earlier, Russian investigators were quoted as saying they believed pilot error or a technical failure was the most likely reason for the crash.
Flydubai's Chief Executive Ghaith Al Ghaith said there was no distress call from the pilot and that it was too early to say what caused the crash.
Both pilot and co-pilot, a Cypriot and a Spaniard, each had over 5,000 hours of flight experience.
Pictures of #FZ981#FlyDubai crash show small & scattered debris which would indicate a violent impact with ground pic.twitter.com/T0sTvP17cM

— Flight-Report ✈ (@flight_report) 19 March 2016
Russia's emergencies ministry said the disaster happened at 3.40 local time (00.40 GMT) on Saturday morning.
An airport security camera captured the moment Flight FZ981 crashed overnight, inside the airport's perimeter but about 250 metres short of the runway.
Strong winds were reported at the time with gusts of up to 69 kilometres per hour, but visibility was said to be good, according to the independent US-based Flight Safety Foundation.
The plane was reportedly in a holding position for about two hours and the crash happened more than two hours after its scheduled arrival time.
The Rostov region's emergency ministry said that the plane's wing hit the ground on its second attempt to land and burst into flames.
Some reports appeared to suggest the plane had been ascending before experiencing a sudden fall.
#FZ981 1st data shows a very low speed of 102 knots, then a steep climb to 4000ft before plummeting into the ground pic.twitter.com/WeWj0Xjs9S

— Flight-Report ✈ (@flight_report) 19 March 2016
#FZ981 was climbing after a go-around when it suddenly started to fall with vertical speed of up to 21000 feet/min pic.twitter.com/Ol6qmxLDZW

— Flightradar24 (@flightradar24) 19 March 2016
BREAKING Here are communications about weather between ATC and #FlyDubai#FZ981https://t.co/fvFuH8v8Wlpic.twitter.com/6Qv3KFsOvB

—

AIRLIVE

(@airlivenet) March 19, 2016
#FZ981 performed a missed approach at ~22:43UTC then held for ~2hrs before attempting to land again ~00:41UTC pic.twitter.com/tzDwAfKfNc

— Flightradar24 (@flightradar24) March 19, 2016
The Investigative Committee of Russia said there were no survivors among the 55 passengers and seven crew members.
Flydubai said the passenger fatalities included 33 women, 18 men and four children. Their nationalities included 44 Russians, eight Ukrainians, two Indians and one Uzbekistani.
According to the Russian emergency ministry, there was one Russian among the seven crew members. As well as the Cypriot pilot and Spanish co-pilot, another crew member was Spanish, while the other three were from Seychelles, Colombia and Kyrgyzstan.
The airline said in a series of updated statements that everything was being done to help those affected.
The disaster is the budget airline's first since it began operating in 2009. The aircraft that crashed was just over five years old.
All of us at Boeing send our thoughts and prayers to those on board flydubai FZ981, their families & friends: https://t.co/eRSl9LKPED

— Boeing Airplanes (@BoeingAirplanes) 19 mars 2016
I offer my condolences to the families of the passengers who lost their lives on board flight FZ981. This terrible tragedy grieves us all.

— HH Sheikh Mohammed (@HHShkMohd) March 19, 2016