Families of Russian plane crash victims comforted at Rostov airport
Comments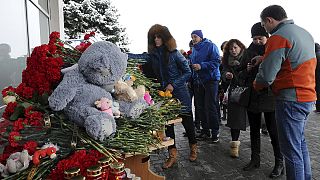 As news of the plane crash in southern Russia emerged on Saturday morning, local residents in Rostov-on-Don came to the airport to lay flowers and pay their respects.
Officials said there were no survivors among the 55 passengers and seven crew members on board Flydubai Flight #FZ981 after it came down at its destination airport after travelling from Dubai.
A breakdown of the plane's occupants and their nationalities was released by Flydubai in a series of updates on its Facebook page.
Thirty-five of those on board were women and there were four children. The nationalities of the passengers included 44 Russians, eight Ukrainians, two Indians and one Uzbekistani.
Most of the crew are thought to have been non-Russian.
"It's hard. Painful. (I feel) pain for the children. It's horrible, it's really horrible," said one young local man who came to Rostov airport to pay his respects.
The arrivals soon included family members of the victims who were comforted by health officials.
"It's terrible – to fly so many thousands of kilometres and to die close to home," said one woman, the relative of a crash victim, in obvious distress.
President Putin ordered for assistance to be given to the families of those killed.
Reports in Russian media said that relatives of foreign victims were to be granted visas to visit the country.
Other flights were diverted away from Rostov-on-Don in the aftermath of the crash.
Airlines react to news of #FZ981. pic.twitter.com/jGdEgzOfa0

— Airways Magazine (@airwaysmagazine) 19 March 2016