Ski Jumping: Kranjec wins final individual event of season
Comments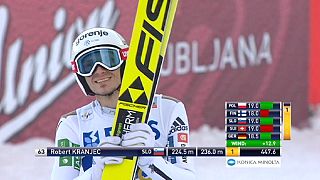 Robert Kranjec continued Slovenia's fine finish to the Ski Jumping World Cup season when he triumphed at the final individual event on home snow in Planica.
Kranjec celebrated his second win of the season with jumps of 224.5 and 236 metres to give him an impressive total haul of 447.6 points.
He triumped ahead of his more established compatriot, Peter Prevc who won yesterday's World Cup event at the same resort and has already claimed the overall season title.
Prevc posted a jump of 218m in round one but produced monumental second effort of 242m to lift himself to second place.
Third went to Norway's Johann Andre Forfang, who registered jumps of 223.5 and 233 metres to come in only 0.7 points behind Prevc.
The season will end with a team competition in the same Slovenian resort on Saturday.