Iraq: Moqtada al-Sadr supporters stage sit-in outside Green Zone
Comments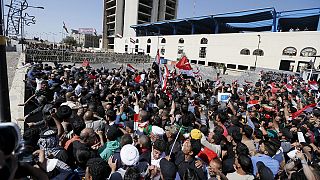 Thousands of Moqtada al-Sadr's followers are staging an anti-corruption sit-in at the walls of Baghdad's Green Zone, where Iraq's major government offices and foreign embassies are housed.
On February 13, the powerful Shi'ite Muslim cleric gave the government 45 days to introduce non-party technocrats into government to tackle systematic graft.
"Due to an order given by Moqtada al-Sadr, we have started this sit-in in front of the Green Zone to put pressure on the Iraqi government to carry out radical change and eliminate corruption," demonstrator Najim Abdul-Hussein told the press.
Prime Minister Haider al-Abadi was originally brought in to fight corruption, which had been rife in the previous administration.
However he is perceived to have failed to follow through with political and economic reform.