Dutch far-right leader Geert Wilders appears in court to answer charges of hate speech
Comments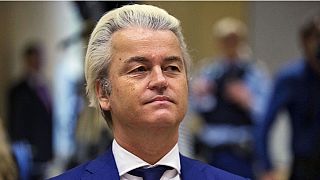 Dutch far-right leader Geert Wilders is back in court to answer charges of discrimination and hate speech against the country's Moroccan minority.
The charges date back to a rally in March 2014 where he called for 'fewer Moroccans'. Wilders claims that his comments are protected by his right to freedom of speech. At the hearing the lead prosecutor, Wouter Bos, said free speech came with responsibilities within a democracy.
"The suspicion is that with these words Wilders insulted Moroccans as a group. Further, the suspicion is that with these words he incited discrimination and hatred. Thank you."
Wilders has previously been acquitted of making anti-Islam remarks in 2011.
A handful of his supporters and the Dutch branch of the German anti-Islam Pegida party rallied outside the courtroom.
Pegida Dutch branch leader Edwin Wagensveld said:
"This is absolutely not a fair process. We are living in a democracy, and one has a right to say things openly, without calling on violence, and we are against that but we have the right to say what we want"
The controversial politician's party holds a comfortable lead in opinion polls, but has never held power in the country.
If convicted Wilders could go to jail for up to one year and be fined a maximum of 7,400 euros.