Turkey expels British academic over invite to Kurdish New Year celebrations
Comments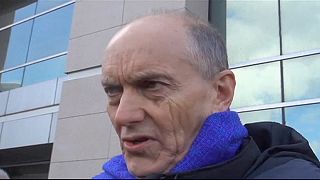 A British academic has been expelled from Turkey after being found with invitations to Kurdish New Year celebrations.
Demonstrations have been held in support of Chris Stephenson, a well-known lecturer at Bilgi University in Istanbul.
As Chris Stephenson deported… anyone can virtually be called a terrorist according to… https://t.co/PKO4FfOfM4pic.twitter.com/shjfgCwglG

— Erkan Saka (@sakaerka) March 17, 2016
Stephenson says he was detained on Tuesday at a courthouse where he went to support three scholars accused of terrorism propaganda.
Academic #ChrisStephenson will leave #Turkey without waiting for deportation order. pic.twitter.com/ZrYrn0DYDx

—

HDP

English (@HDPenglish) March 16, 2016
It is reported Stephenson decided to leave Turkey after being told about a deportation order against him, and before officers turned up to physically remove him.
British academic Chris Stephenson was escorted to plane by Turkish police. He left Turkey instead of being arrested https://t.co/SqF2JLEMjV

— Zeynep Erdim (@zeynep_erdim) March 16, 2016
Speaking in Turkish before flying out of Istanbul, he told reporters there was no trial, no offence.
He says an invitation from the legal Kurdish HDP (People's Democratic Party) was found in his bag.
He says he told the officers the papers were not from a terrorist organisation, that he doesn't support terrorism, he wants peace and has always acted for peace.
Detained British academic Chris Stephenson – after 25 yrs here, married to Turk – may end up deported https://t.co/wEOv8RqCUwhurriyet</a></p>&mdash; Ayla Albayrak (aylushka_a) March 16, 2016
Many people have spoken out in support of Stephenson, a computer sciences lecturer who has lived in Turkey for more than 25 years.
Sad to see #ChrisStephenson being deported from Turkey for no sane reason.
Sad to see where Turkey is heading with all this…

— Mustafa Akyol (@AkyolinEnglish) March 16, 2016
Stephenson was not officially charged with anything, but an administrative order was issued for his deportation.
Turkish officials have not yet commented on the case.
British academic Chris Stephenson, detained in Turkey accused of 'making terrorist propaganda' | via Telegraph</a> <a href="https://t.co/AsWvvmXnX5">https://t.co/AsWvvmXnX5</a></p>&mdash; Ruki (rukiorg) March 16, 2016