Migrants wait in Turkish town of Cesme to cross to Greek island
Comments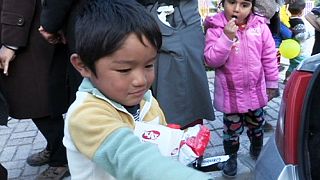 The Turkish town of Cesme lies on the Aegean coast, just six miles from the Greek island of Chios. For this reason it's popular with migrants destined for the EU.
Many people waiting to travel to Greece stay in the town's parks and hotels.
They rely on handouts for food and other essentials.
"We give milk to kids to babies, baby biscuits, fruit purees, nappies," Nur Şahinoğlu from the NGO İmece Çeşme İnitiative told our reporter. "For women sanitary pads, beside all these we give canned food, bread and water. We also provide clothes to the ones who needs."
Golan Shah waits with his wife and their five children. He told euronews why he fled Afghanistan:
"We've been under fire from rockets and suicide bombs for thirty years, so we are not afraid of death," said Shah. "We are forced to leave because our economic situation is not good. We take to the boats. I understand that there is 99 percent chance that we will die."
Euronews visited a tourist resort, once popular with Germans. Now largely deserted by holidaymakers, it is used by migrants on their way to Greece. Many people stay here before the time is right to take to the seas.
Euronews correspondent Bora Bayraktar said: "This holiday resort is deserted because of the latest measures from Turkey and the bad weather conditions. It's been used as final stop before leaving for Europe.But there is possibility of refugees will take to the road once the weather improves. At that time this place can be filled by refugees again."