European leaders arrive in Brussels for EU-Turkey summit
Comments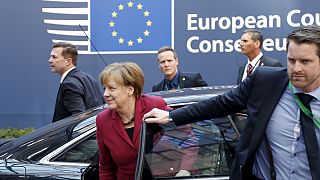 Dutch Prime Minister Mark Rutte has told reporters outside an EU-Turkey summit in Brussels that they have to reach an agreement.
As leaders arrived for the two-day meeting, he said the EU is ready to grant Turkey visa liberalisation but with conditions.
He said there are some obstacles to a final agreement between the EU and Turkey, including what he described as legal questions.
""We have to come to a deal, otherwise the situation in Greece will stay very difficult and the humanitarian crisis will increase as the west Balkans route has now been closed off. People cannot leave Greece so it is crucial that we come to a deal now and tomorrow," said Rutte.
After a year when more than a million people have arrived in Europe after fleeing war and poverty in the Middle East and beyond. The EU is looking desperately to Turkey to seal its coastline and stem the flow.