North Korea nuclear warhead test 'soon' reports KCNA
Comments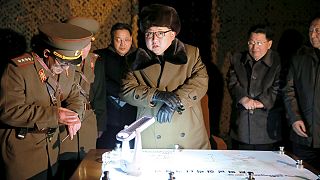 North Korea will test a nuclear warheads and test-launch ballistic missiles capable of carrying nuclear warheads soon, according to the country's KCNA state news agency.
South Korea's defence ministry said there was no indications of activities at the North's nuclear test site or its long-range rocket station. It said that Pyongyang maintains it is ready to conduct nuclear tests.
"North Korea will lead itself to self-destruction if it does not change and continues to make excessive provocations and confrontation with the international community," asid South Korean President Park Geun-Hye
North Korea conducted a nuclear test in January and launched a long-range rocket last month.
Sanctions were tightened in response.
Pyonyang has issued hostile statements almost daily since then.