Bangladesh central bank boss resigns over cyber heist, money hunt continues
Comments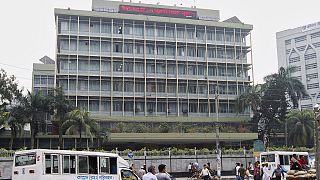 Bangladesh's central bank governor has resigned over the theft by hackers of $81 million (73 million euros) as investigators try to track where that money went.
Cyber criminals broke into the central bank's computers and transfered the cash out of its account at the New York Federal Reserve.
The bank's governor, Atiur Rahman, explained why he quit: "I thought, to protect the image of the bank, I resigned voluntarily to take a much higher moral ground, there are not many examples of that in this country, to really take the responsibility, morally, and then resign."
The money trail leads to the Philippines to a commercial bank where one man collected $30 million (27 million euros) in cash from a branch where the security cameras were not working. The rest appears to have gone to the same man's accounts at two casinos.
Subhankar Saha, Executive Director of Bangladesh's central bank, told reporters: "We are working with the Philippines anti-money laundering authorities on tracking the money. The media reports we have seen from there are that the commercial bank in the Philippines continued the process of transferring the money on without carrying out the proper checks."
The theft has been seen as a wake up call for central banks around the world to overhaul their security procedures.
The feeling among cyber crime experts is that Bangladesh stands little chance of getting that money back.