Bangladesh cyber bank heist blame game underway
Comments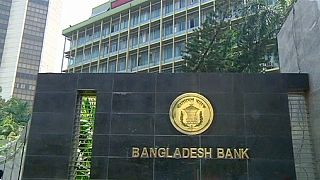 The blame game is underway in Bangladesh after computer hackers stole the equivalent of 73 million euros from the central bank and its governor Atiur Rahman resigning.
And if it hadn't been for a spelling mistake on a transfer request they could have got away with 10 times as much.
The finance minister has accused the central bank of incompetence and said he was not informed about the theft when it happened, indeed that he only learned of it through media reports one month afterwards.
Rahman, who returned to Dhaka late on Monday after attending a weekend International Monetary Fund conference in New Delhi,said Prime Minister Sheikh Hasina had accepted his resignation.
The government also fired two deputy governors of the bank, Finance Minister Abul Maal Abdul Muhith said.
Rahman, 65, said he resigned to set an example in a country where there is not much precedence of accountability and to uphold the image of the central bank.
"I took responsibility," Rahman said.
It wasn't immediately clear who would take his place at the bank.
Bangladesh's central bank said cyber criminals using malware tried to withdraw the equivalent of 856 million euros from a bank account it holds in New York.
After 73 million had been sent to the Philippines US officials noticed a misspelled word in the name of the recipient and blocked any more transfers.