Norway's mass killer Anders Breivik sues his jailers for violating his human rights
Comments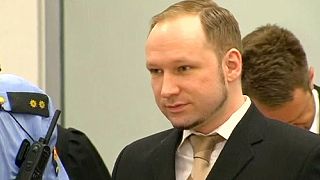 Anders Behring Breivik , the man convicted of killing 77 people in Norway's worst peacetime atrocity is suing his jailers for alleged cruel and inhuman treatment.
Breivik who is serving a 21-year term claims that by keeping him in isolation his rights are being violated. A four day hearing begins today.
He's being kept at the Skien prison in southern Norway, where he's the only inmate in the extra-high security wing. He is regularly handcuffed and strip-searched and has no contact with other inmates. He is allowed to make calls, and has access to a TV and a PlayStation gaming device.
All of Mr. Breivik's letters are read by the prison authorities, and his correspondence can be held back if it encourages crime or actions that would disturb order and security.
In his complaint filed last year against the Ministry of Justice, Breivik said his isolation in prison is tantamount to inhuman and degrading punishment, while censorship of his mail breaches his right to privacy.
On July 22, 2011, Mr. Breivik killed eight people with a car bomb in Oslo and gunned down 69 people, mostly teenagers, at a political youth camp on the nearby Utoya island.