Goals galore, upsets, and seeing red in The Corner
Comments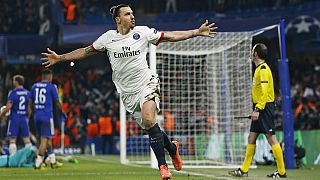 We are not even in the final stage of the season but we already have a Ligue champion. Paris Saint-Germain won their fourth consecutive French title when they beat Troyes. And in Spain and Germany, the respective leaders also look unstoppable. Barcelona and Bayern Munich proved in their matches that they have no rival when it comes to scoring.
Goal gluttons
PSG – Troyes
Caviani could have had a hat-trick but for a missed penalty but PSG still ran riot putting nine past Troyes, with four from Ibrahimovic. The ligue has been a stroll for PSG this year, and this was their biggest win so far with two months to go…
FC Barcelona – Getafe
Barcelona continued on their free-scoring ways by netting six times against Getafe. It was an eventful day for Messi, missing a penalty, then setting up three goals and scoring one himself. Neymar added a couple to his season's total.
Bayern Munich – Werder Bremen
Bayern delighted a 75,000 home crowd by stamping all over Bremen five-nil. Muller scored a brace, and Lewandowski added to his tally after coming on for only the last 16 minutes.
Up and Down
And now let's see who's going to remember this week and who would rather forget what happened…
UP- Zlatan Ibrahimovic, who scored four goals in his last match. Since January 2000 no one at PSG had scored 4 goals in a game. He has scored 27 so far this season in Ligue One. And, aged 34, he is being strongly tipped to go to Manchester United next season.
UP – Watford, a lowly 14th in the Premier League, pulled off an exploit at the weekend by knocking holders Arsenal out of the FA Cup to pile more pressure on manager Arsene Wenger.
DOWN – Footballing war machine Diego Costa is in trouble again. Spitting at the referee earned him his first red card since arriving at Chelsea in 2013 in the cup game against Everton, which the Londoners lost. He also faces allegations of biting Gareth Barry, although the Everton player denies the attack.
DOWN – FC Barcelona, although it is highly relative. Their "weak point" if you can call it that, is missing 8 out of 16 penalties this season. They are the first team in La Liga history to miss that many. The last one was Messi's miss this weekend against Getafe
Road to Euro 2016
Euro 2016 is getting closer. We dedicate our Road to Euro section to the national team that has won the last two editions. Let's check out what happened in 2008. Will 'La Roja' be able to win again in France?
The beginning of a new era
Spain's 44-year wait for a trophy came to an end at UEFAEURO 2008 as Luis Aragonés's side defeated Germany 1-0 to deservedly win a competition they had taken by storm. It was the first title of a generation that had no rival in the following years.
Two years later, captain Iker Casillas lifted another trophy, this time the World Cup. Two years after that Spain retained the Euro, becoming the first national side to win the triple of consecutive top international tournaments. Their fast-passing, total possession game was dubbed "Tikki takka" by the fans. It was a game that, for four glorious years, could not be unpicked by any opposition.
We might be wrong
This week we will know which teams are going to be in the quarter finals of the Champions League. These are our predictions for last matches in the top 16. As always, you can send us your thoughts on Twitter: #TheCornerScores.
March 15
Atlético Madrid 2 – 0 PSV Eindhoven
Manchester City 3 – 1 Dynamo Kyiv
March 16
FC Barcelona 3 – 0 Arsenal
Bayern Munich 2 -1 Juventus
Route One with a difference
One footballing truth is that sometimes scoring a goal is not as easy as it seems. But even less if you receive the ball from a 74-metre-high skyscraper. That's what Roseborg tried. Watch the video if you want to see if he managed to score.