OHCHR expresses concern over EU-Turkey draft deal on migrants
Comments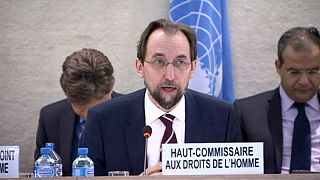 A UN human rights agency has said it is concerned over the legality expressed apprehension over a draft deal to return migrants from certain EU nations to Turkey.
The comments from the Office of the High Commissioner for Human Rights (OHCHR) come after Athens and Ankara reaffirmed the tentative agreement last week.
Zeid Ra'ad Al Hussein said:
"Among my concerns is the potential for collective and arbitrary expulsions, which are illegal. Border restrictions which do not permit determination of the circumstances of each individual violate international and European law."
Ninety so-called irregular migrants from Pakistan, Morocco, Algeria and Tunisia have been sent back to Turkey from Greece, Greek police say.
Germany hopes the proposed deal will halt the influx of people entering Europe. This, however, is open to criticism, with claims it contravenes human rights.
The EU's Migration Minister insisted a draft deal must be in line with EU and international law.
"We have to go according to the EU and international law, in other words, first of all, no risk of persecution in this country. Second, respect of 'non-refoulement' and third, possibility to request and receive refugee status according with Geneva convention," said Dimistris Avramopoulos.
He insists at least 6,000 migrants per month need to be relocated from Greece to other EU member states.
The scheme has so far successfully moved just 900 people.
Another 173 "irregular migrants" – which can also include those from Bangladesh — will be returned to Turkey over the next week (from March 11, 2016), according to Greek police.