The remains of two Italian hostages are flown back to Rome
Comments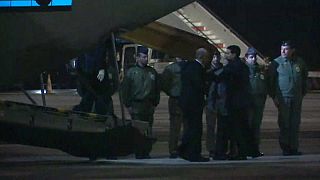 The bodies of two Italian hostages held in Libya by ISIL militants since last July have been flown back to Rome.
The pair Salvatore Failla and Fausto Piano who were employees of Italian construction company Bonatti are thought to have died in a shootout before an attempt to free them.
Two other hostages working for the same company were released.
The four had been seized near the western Libyan city of Sabratha . It's one of several Libyan cities in which militants loyal to ISIL have established a presence, taking advantage of the chaos that has plagued Libya since Muammar Gaddafi was toppled in an uprising five years ago.