Nancy Reagan's casket is placed in presidential library ahead of Friday's funeral
Comments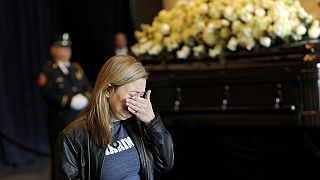 Members of the armed services have placed the casket of former US First Lady Nancy Reagan in the Reagan Library in California for public viewing ahead of Friday's funeral.
Nancy Reagan died age 94 last Sunday. Her 52-year marriage to Ronald Reagan was once described as the US presidency's greatest love affair.
Following news of her death from congestive heart failure, Mrs Reagan has been praised by President Barack Obama's family and other senior US politicians and foreign leaders.
From 1981-89 she was one of the most influential first ladies in US history, initially criticised for an expensive renovation of the White House, but later becoming a much-loved figure.