ISIL chemical rockets harm dozens of civilians
Comments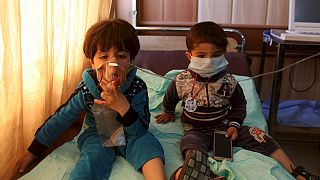 Dozens of people suffered respiratory and skin problems after ISIL militants reportedly fired poisonous shells and rockets into their town in northern Iraq.
None of the casualties died but 200 had to receive medical care, according to local officials. They suspect chlorine was used but have collected samples to examine them more closely.
The attack struck the town of Taza, south of the oil city of Kirkuk. Further north, near Mosul, US jets have started bombing ISIL targets suspected of storing chemical weapons.
The US-led coalition is said to have obtained precious intelligence on ISIL's chemical program from an Iraqi prisoner it's been interrogating since last month.
Meanwhile Iraqi security forces have recaptured from ISIL several villages northwest of the city of Ramadi, the capital of Anbar province that government forces have reclaimed control of in recent months.
The fighting has displaced more than a million people in Anbar province, Iraq's largest, over the past two years.