ISIL fighters identified in stolen documents
Comments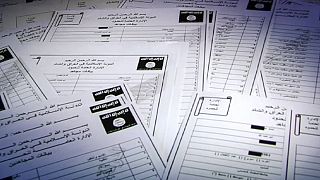 German counter-terrorism investigators are scrutinizing documents which are said to reveal the identities of thousands of ISIL fighters.
Leaked documents 'identify 22,000 ISIL members' https://t.co/aZWQYc2zF4pic.twitter.com/Jh0Hl5VcRK

— Worldbulletin (@worldbulletin) March 10, 2016
German authorities are treating the files seriously and security services and media groups across Europe have copies of the documents.
Isil leak of 1,736 top secret documents names '16 British terrorists' https://t.co/fGrKBB1uGcpic.twitter.com/qtmT3oigJS

— The Telegraph (@Telegraph) March 10, 2016
The database contains a mine of information, which could assist authorities trying to pinpoint nationals who have joined the extremists.
Peter Neuman, is a Professor of Security Studies at Kings College, London: "A few terrorist groups fabricate records on their members and where they are. What we see here with the ISIL documents is that this is not just a terrorist organisation, but a group that believes and behaves like a state."
The files contain 22,000 names, telephone numbers and family contacts of ISIL members.
A Syrian national, Abu Hamed handed the data over in Turkey and it was passed on to German federal police.
The former ISIL member says he became disillusioned with the group and stole a memory stick containing the data.
"ajam</a> Report documents growing number of ISIL defectors <a href="http://t.co/kway2zRmZb">http://t.co/kway2zRmZb</a> via <a href="https://twitter.com/tomkutsch">tomkutschpic.twitter.com/1mYHaryUE5"

— Metis Facility (@MetisFacility) September 22, 2015
Each file contains 23 questions that include fighting experience, countries visited and the prefered date and place of death.
Security analysts believe ISIL is a bureaucratic organisation and such records come as no surprise.
So far only 1,700 names have been revealed and they date from 2013.
ISIL has recruited fighters from 40 countries including Saudi Arabia, Tunisia, Morocco, and Egypt.
Isil exploiting migrant routes to smuggle jihadists using fake documents. https://t.co/eiD58dWO2Apic.twitter.com/DlfkwkWM3q

— Independent.ie (@Independent_ie) January 27, 2016
France provides the most jihadists from within the EU.
Authorities may be able to use the documents to prosecute individuals who have returned home from Syria or Iraq and identify fighters at borders.