Changes to Poland's highest court ruled 'unconstitutional'
Comments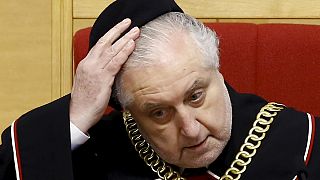 Polish judges have ruled against the country's government and declared that changes to the functioning and make-up of Poland's Constitutional court are illegal.
It follows the introduction of a law by the ruling right-wing Justice party (PiS) which increases the number of judges at the court required to make rulings and changes the order in which cases are heard. It has also rejected court appointments made by the previous government.
PiS says the changes are needed to reflect the new balance of power in Poland after its landslide election win last year.
Government critics claim the amendments have paralysed the court's work, limiting its ability to act independently.
The verdict has deepened the current crisis between the judiciary and the ruling right-wing Law and Justice party..
Poland's Justice Minister Zbigniew Ziobro voiced the response of the government which has rejected the court's opinion:
"My position is the following: these actions which we observed in the Constitutional Court were actions of a group of judges who did not act on the basis of law and within the law, so they acted unlawfully. Their ruling has no legal force, it is not binding."
Various other government measures have caused concern both within Poland and abroad, especially a law reducing the independence of the media. The Council of Europe, a human rights body, is due to issue an opinion this week.
RT carlesdijous: Thousands #Protest in #Poland over Govt's Constitutional Court Plans. https://t.co/90Bi3WtSuf  pic.twitter.com/15NNuEtt26

— Protest Pin (@ProtestPin) December 20, 2015