Trump easily takes Michigan in prize state primary but Sanders is the main surprise
Comments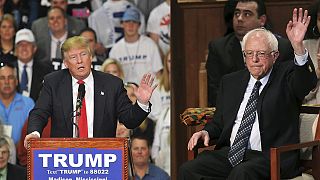 Trump scores easy wins in Michigan and Mississippi
Sanders causes Clinton upset
Rubio has brutal night
Republican front runner Donald Trump easily took three of the latest primaries – Mississippi, Michigan and Hawaii – consolidating his lead in the race to become his party's presidential candidate.
The wins have restored his unconventional campaign's momentum and raised the pressure on mainstream Republicans to try and stop him.
"The turnout has been just massive, every week. We have Democrats coming over, very importantly, we have independents coming over. We have people coming over here, who have never voted Republican, who have never even thought about it," Trump told supporters.
The Michigan victory sets Trump up for a potentially decisive day of voting a week from Tuesday. On March 15, Ohio, Florida, Illinois, Missouri and North Carolina – like Michigan, states rich in the delegates who will select their party's nominee at July's Republican National Convention – cast ballots.
Trump tightens grip on GOP nomination https://t.co/MxxwOo2UDIpic.twitter.com/rWOWvbfCfE

— The Hill (@thehill) March 9, 2016
For the Democrats there was a major surprise with Bernie Sanders defying the polls and engaging Hillary Clinton in a tight race for Michigan ending up with projections giving him a narrow win.
.BernieSanders</a> scored one of the biggest victories of his underdog campaign by beating <a href="https://twitter.com/HillaryClinton">HillaryClinton in Michigan https://t.co/89evMxE3K3

—

POLITICO

2016 (@politico2016) March 9, 2016
"What tonight means is that Bernie Sanders campaign, the people's revolution, the political revolution we're talking about is strong in every part of the country and frankly we believe that our strongest areas are yet to happen," said Sanders.
Clinton, who had earlier won Mississippi, was disappointed with Michigan but the delegates will be split there due to the state's proportional award system.
The main loser on the night was Republican Marco Rubio, the US senator from Florida who has been the establishment favorite since other mainstream candidates dropped out of the race. However he lagged badly in both Michigan and Mississippi is unlikely to win delegates in either.
In Idaho Republican Ted Cruz was projected to win the primary there, preventing Trump from completing a clean sweep on the night.