Palestinians open fire on traffic in Jerusalem as series of attacks continue
Comments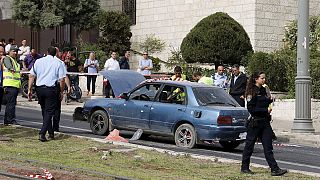 Israeli police have shot and killed two Palestinians accused of opening fire on traffic in Jerusalem and outside the Old City.
One person is in a serious condition after the shootings.
Police say the two attackers fled the scene after opening fire.
This is the latest in a string of violent attacks in Israel, and the latest coincide with a visit by the US Vice President Joe Biden.
On Tuesday a Palestinian carried out a knife attack on the waterfront in Tel Aviv.
An American tourist was killed and 12 people injured.
Over the past five months Israeli soldiers have reportedly killed at least 179 Palestinians, 121 of whom Israel accuses of being assailants.
The others were shot dead during clashes at demonstrations.
Shootings, stabbings and car rammings have killed 28 Israelis and two US nationals.