Black Wednesday in France as nationwide protests are planned against labour reforms
Comments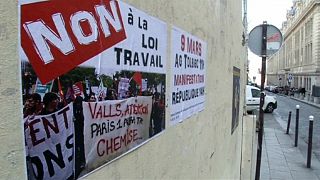 France is bracing itself for nationwide protests and some stoppages against a government proposed labour reform bill.
Unions across the board are up in arms saying it will undermine workers' rights The government says it will incentivise businesses to hire more employees.
The reforms, which would put almost all aspects of the country's strictly codified labour relations up for negotiation between employers and unions, have been controversial even within the ranks of the ruling Socialist party.
The government announced last week that it would present the proposed bill in detail two weeks later than the previously planned March 24.
In order to salvage the bill the government is currently negotiating some changes.
The El Khomri law named after Employment Minister Myriam El Khomri is designed to give employees more flexibility in hiring and firing, but critics say it unduly threatens job security.
Unemployment is running at an 18-year high of over 10 percent, a figure which President Francois Hollande is desperate to see fall.
And just to add to the chaos, rail workers for the state owned SNCF operator are holding their own strike in support of pay and conditions.
International will also be affected.
Strikes in France tomorrow? Noooooo. Strikes in France? What a surprise!!

— Dr. David Marrani (@Doubledegree) March 8, 2016
WorkVisasRFI: France to grind to a halt – Rail strikes in France are set to bring widespread disruption across … https://t.co/kXjelkRqBh

— Haywood

WISE

(@paris_lawyer) March 8, 2016