48-hour strike by English junior doctors over pay and conditions
Comments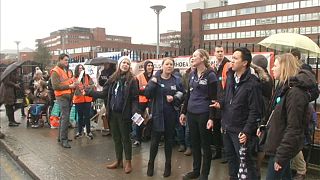 A 48-hour strike by junior doctors in England over a new work contract being imposed by the government.
The doctors are angry after being told the contract, which reduces how much they're paid for working weekends, will be forced through in August after negotiations faltered.
One of the those protesting and collecting signatures for a petition, junior doctor Holly Cooper, told reporters: "It's a very stressful job, high intensity.
"And to have the government, particularly our Secretary of State for Health telling us that we're not listening to you, you're saying that the contract isn't suitable and it's not what you want, but I'm just going to impose it anyway."
Surgical trainee and junior doctor Alex Trevatt said: "In my entire time as a doctor, I've never heard so many people say that they are considering either leaving the profession completely or at least leaving the country and going to work somewhere else.
The Health Secretary Jeremy Hunt has accused the British Medical Association of refusing to compromise in the battle over the contract.
Figures show that junior doctors make up just over 50 percent of all doctors in the National Health Service.
Officials say more than 5,000 operations have been cancelled due to the strike.
Similar action was also taken in January and February, with participation not seen in decades.
The government maintains reform is needed in tough economic times and to improve efficiency; the doctors say there will be no safeguards against working dangerously long hours.