Quasem Ali's death sentence upheld by Bangladesh's Supreme Court
Comments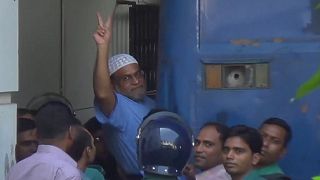 Bangladesh's highest court has upheld the death penalty for Quasem Ali, one of the leaders of the Jamaat-e-Islami party.
A five-judge panel led by Chief Justice Surendra Kumar Sinha upheld the 2014 conviction and sentence for Ali on eight war crimes charges, including the abduction and murder of a young man in a torture cell.
According to official figures, three million people were killed, and thousands of women raped, during the conflict.
Ali's lawyer Khandaker Mahbub Hossain, said history would be the best judge of the verdict.
"It is a judgment of the highest court of the country. I cannot question it. But I leave it to the history whether they will decide and they will review the judgment in future. I have no personal comment."
Four opposition politicians, including three leaders of Jamaat-e-Islami, have already been convicted by the tribunal and executed since 2013.
The party's leaders have accused the tribunal of being a weapon of Prime Minister Sheikh Hasina and targeting his opponents.
Demonstrators took to the streets in support of the court's decision.