North Korea threatens "indiscriminate pre-emptive" nuclear strikes against US and South Korea
Comments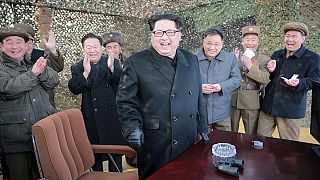 Tension between North and South Korea has flared again, with the north warning of what it calls an "indiscriminate pre-emptive nuclear strike of justice".
The new threat to turn the US and South Korea into what Pyongyang calls a "sea of flames and ash" comes as the two allies begin annual military exercises.
A fourth nuclear test by the north and a long-range rocket launch last month have angered Seoul and Washington and tough new UN sanctions were imposed.
South Korean Defence Ministry Spokesman Moon Sang-Gyun told a media conference:
"North Korea should immediately stop its rash and reckless behaviour that leads to self-destruction.
"If North Korea ignores our warning and makes provocations, our military will firmly and mercilessly respond to it."
The US and South Korea say have informed the north that the exercises are clearly for "training" only and are "non-provocative".
But the deployment of 17,000 American troops and 300,000 South Korean soldiers has been condemned by the north as an act of aggression.
Seoul says so far it has seen no sign of any unusual military activity in the north.