Migration and media freedom top agenda at EU-Turkey summit
Comments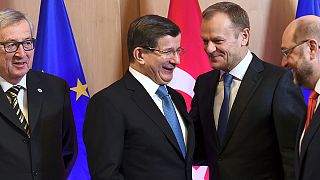 EU leaders are in Brussels on Monday to take another stab at solving the continent's migration crisis.
The summit is expected to formally declare closed the Balkans route from Greece to Germany, and to pledge help to Athens to cope with the tens of thousands of migrants stranded there.
All eyes are on Turkey to take action to stop smugglers from sending migrants over to Europe, with backup from NATO forces in the Aegean sea.
But EU leaders are also concerned about media freedom in Turkey after the government seized control of the country's leading opposition newspaper last week.
European Parliament President Martin Schulz said he had told Turkish Prime Minister Ahmet Davutoglu that media freedom was "a non-negotiable element of our European identity" and they had differed sharply. The migrant crisis meant the EU needed to work with Turkey even if it was in "total disagreement" with its policies, he said.
The seizure of #Zaman is yet another blow to #pressfreedom in #Turkey. I intend to raise this issue on Monday Ahmet_Davutoglu</a></p>&mdash; Martin Schulz (MartinSchulz) March 5, 2016
Eager for a solution to the refugee crisis is Angela Merkel. The German Chancellor faces a potential backlash against her open doors policy in three regional elections next Sunday.
Merkel and Dutch Prime Minister Mark Rutte, whose country holds the rotating EU presidency, spent five hours talking with Davutoglu in Brussels until 2.45 a.m. to try to secure commitments to halt the migrant flow after more than one million people – mostly Syrians, Iraqis and Afghans – entered Europe last year, most ending up in Germany.