France opens new refugee camp, amid protest
Comments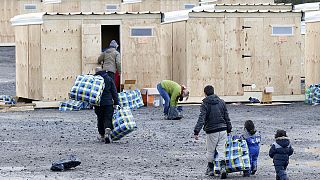 Monday was moving day for dozens of migrant families near the northern French city of Calais.
The country's first international-standard refugee camp has opened in Grande-Synthe, near Dunkirk. Families are now being relocated there from a nearby shantytown where they were living in dire conditions.
This new camp lies around 40 kilometres from the largest refugee camp on the outskirts of Calais, nicknamed the "Jungle", which is being gradually demolished by the authorities.
It features some 200 heated wooden cabins and proper toilets and showers, and was built by Doctors Without Borders (MSF) with the support of the local town hall — despite opposition from the French government.
UPDATE: MSF_France</a>&#39;s camp at <a href="https://twitter.com/hashtag/GrandeSynthe?src=hash">#GrandeSynthe</a> is complete. People can stop living in the mud and move in as of today. <a href="https://t.co/7F8I86T8Hk">pic.twitter.com/7F8I86T8Hk</a></p>&mdash; MSF Sea (MSF_Sea) March 7, 2016
Still, some were skeptical with the move. "This camp is not a solution," said Belgian volunteer Margaux Desmet. "It's only temporary, like a new beginning, but is this really a new beginning?"
In Calais, a dozen Iranian refugees have started a hunger strike and protested against the dismantling of the Jungle.
Many fear increased police presence and tighter security measures in the new camp might stop them from reaching Britain, where many hope to move on and start a new life.
Calais Jungle refugees have sewn their mouths shut in protest at the camp clearance https://t.co/CM9CV5lM6Kpic.twitter.com/N0wC8cBdgM

— The Independent (@Independent) March 5, 2016