Defiant German 'Zaman' journalists publish their own version of paper
Comments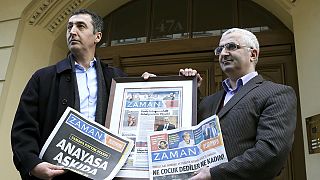 Days after the Turkish authorities seized control of the country's largest newspaper Zaman, its reporters in Germany have published their own "independent" version.
It comes after the editor of the English version which is published in Turkey was moved "sideways" at the paper and the English web version was frozen.
Zaman's German Edition Editor in chief, Suleyman Bag held up the last joint edition of the paper with the Turkish version in Istanbul.
"What you are seeing here is the last joint edition with the Turkish Zaman editorial team. As of Sunday, or rather as of today, we are publishing a Zaman issue which is no longer in cooperation with Zaman in Turkey because it was seized by the state. This is the edition our subscribers in Germany receive. In Germany, we have 14,300 subscribers to the print version."
Dark day for free media. Raids of #Zaman unacceptable. #Turkey must be better than this. #FreeMediaCannotBeSilencedpic.twitter.com/cO07bJOrcq

— Kenan كنان (@KenanRahmani) March 5, 2016
The clampdown on the pro opposition paper by the Turkish state has been internationally condemned with German politicians joining in the criticism
German Green Party, Cem Ozdemir said:
"This must have consequences on our relations with Turkey.The European Union is a community of values and those who want to become part of this community of values must respect the freedom of the press and the freedom of opinion."
The Turkish authorities seized control of Zaman on Friday in a widening crackdown against supporters of US-based Muslim cleric Fethullah Gulen, an influential foe of President Recep Tayyip Erdogan. Zaman has been affiliated with Gulen.
#Eu is making a 3 BLN € deal with dictator #Erdogan who raids indipendent #Zaman newspaper! #ThisIsNotMyEUhttps://t.co/n0zQ1l0PVI

— Giuseppe Fiamingo (@italianestero) March 5, 2016
In a further development the private Cihan News Agency which is a sister company of Zaman daily has also been taken over.
The agency was one of only two main sources providing election results. The other one being the state owned Anatolian News Agency.