EU warns Turkey over press freedom
Comments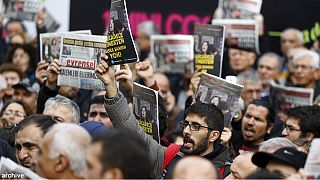 "We will be back as soon as possible with quality and unbiased news": the website of Turkey's Zaman has been out of action since authorities pulled the plug on it and seized control of the country's top-selling opposition newspaper on Friday.
Freedom of media is a key element of our European identity
Turkey's move has been criticized by EU leaders worried about a media crackdown.
In Brussels, where European heads of state were holding talks with Turkey on Monday to find a joint solution to the continent's migration crisis, European Parliament President Martin Schulz raised the issue.
"I had a very open exchange with the (Turkish) Prime Minister who disagreed with my point of view. I think this is not a surprise," Schulz said. "I insisted that for the European Parliament and the European Union, freedom of media is a key element of our European identity."
On Saturday, Turkish police fired tear gas and rubber bullets to disperse protesters who'd gathered outside the newspaper's office after the takeover.
First Turkey silences independent Zaman press, then police tear gas readers who protest. https://t.co/IiPwN1qHS0pic.twitter.com/vLr7SFN2QZ

— Kenneth Roth (@KenRoth) March 5, 2016
Zaman was linked to U.S.-based cleric Fethullah Gulen, who Ankara says was plotting a coup.
Last month, two journalists were released from jail after Turkey's top court ruled their rights had been violated. The pair had been accused of espionage and treason over a report alleging the government tried to ship weapons to Islamists in Syria.