PM Robert Fico's anti-immigration party wins Slovakian election
Comments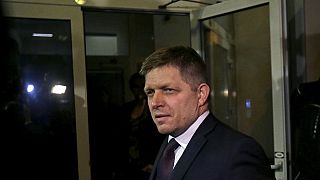 Exit polls suggest the leftist Prime Minister Robert Fico has won Slovakia's election but is likely to lose his parliamentary majority.
If the predictions are correct his party won 27.3 percent of the vote, less than the 35 percent indicated in opinion polls before the election.
Fico's party is stridently anti-immigration and he's vowed not to accept a single Muslim migrant.
It's now likely he'll have to seek coalition partners from some of the nine parties that could enter parliament, including the far right.
"It's a big shame for Slovakia. It's a huge catastrophe that by the time Slovakia takes over the EU presidency in July we'll have fascists in parliament," said a member of Fico's party, Monika Flasikova-Benova.
Fico's social democratic SMER party is known for its populist policies like free train travel for students and pensioners, and his hardline stance on immigration chimes with neighbouring regimes in Poland and Hungary.
Although there is discontent in some sectors Slovakia is one of the EU's most financially stable countries.