Kyiv protests Russian trial of Ukrainian pilot Nadiya Savchenko
Comments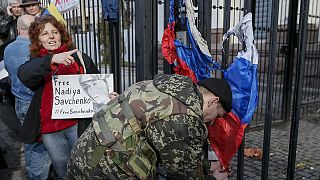 Some 2,000 people have taken part in a rally in Kyiv's Independence Square, calling for the release of a Ukrainian pilot on trial in Russia.
Nadia Savchenko was captured in June, 2014, while fighting against Russia-backed rebels in Ukraine's restive east. She was working for a Ukrainian volunteer battalion at the time.
She is accused of acting as a spotter. Prosecutors allege she called in coordinates for a mortar attack in which two Russian journalists and several civilians were killed.
They are asking for a guilty verdict and a 23-year jail term for the pilot.