Coalition on the cards as Slovakia's PM wins 'complicated' election victory
Comments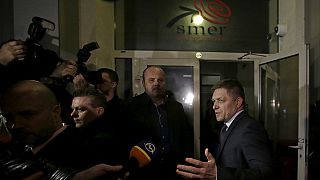 Slovakia's leftist-nationalist Prime Minister Robert Fico has termed the outcome of the general election "complicated."
Almost complete results show he has won the ballot, but his SMER party has lost the parliamentary majority.
Fico will now be forced find coalition partners in order to take office for a third term.
"It is true that the election results are very complicated, which confirms that our political system is very "lively" and we will probably have to work with a huge number of political parties which will get into the parliament of the Slovak Republic," he said following the election.
At least nine groups have reached or exceeded the five percent threshold needed for seats in parliament.
Any centre-right coalition would include the libertarian SaS Freedom and Solidarity party, although its leader has indicated he won't join Fico's Social Democrats or far-right parties, such Our Slovakia, which is also on track for seats in parliament.
The SMER party is known for its populist policies such as free train travel for students and pensioners.
Fico has also vowed not to accept a single Muslim migrant – a hardline stance on immigration, which chimes with neighbouring regimes in Poland and Hungary.
Brussels, meanwhile will be keeping a close eye on events in Slovakia, which is due to take over the EU's rotating presidency for six months from July, 2016.