Benin election: 33 candidates compete to be president
Comments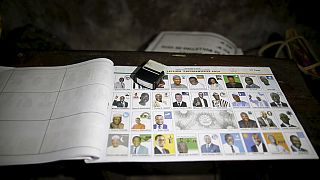 There is plenty of choice in Benin's election.
Voters going to the polls on Sunday have had a record 33 candidates to choose from – all vying to replace a president stepping down after two terms in line with the constitution.
Taking place later than planned due to delays in the distribution of voting cards, the ballot nonetheless reinforces Benin's credentials as a model of democracy in sub-Saharan Africa.
President Thomas Boni Yayi's decision to leave office marks him out from several other African leaders who have changed their countries' constitutions to try to stay in power.
The President supports the frontrunner in the race to succeed him – Prime Minister Lionel Zinsou, a former economist and investment banker.
Among two female candidates in the West African country's election is Marie Elise Gbedo.
In 2001 she only manged to get 1 percent of the vote but in this, her fourth presidential bid, the 62-year-old lawyer and former trade minister is hoping for a breakthrough with a manifesto to tackle youth unemployment and corruption.
Benin produces cotton but its economy is flagging, in part because a fall in oil prices has hit its giant neighbour Nigeria. A big choice facing voters is who best can create jobs and improve education.
Polls open in Benin presidential election https://t.co/sKI8etjWkspic.twitter.com/tEpoUYHzkK

— Reuters Top News (@Reuters) 6 mars 2016