Angry protesters in Kyiv call on Moscow to release pilot Savchenko
Comments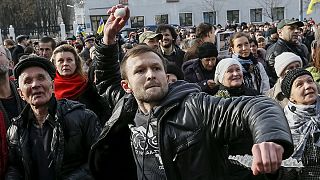 Angry demonstrators pelted the Russian embassy in Kyiv with eggs and rocks on Sunday. Protesters were calling for the release of a former military pilot and MP who is currently in detention in Moscow.
Nadiya Savchenko was captured by pro-Russian rebels amid the conflict in eastern Ukraine in June 2014 and has been accused of complicity in the the killing of two Russian journalists.
#Kyiv, #Ukraine protests urge Russia to release detained pilot Nadia #Savchenkohttps://t.co/2Qa1xglRwX via BBCWorld</a></p>&mdash; Viktor Kovalenko (MrKovalenko) March 6, 2016
Earlier around two thousands supporters gathered in central Kyiv. In Ukraine Savchenko is considered by many as a political prisoner.
Her friends and family are calling on the West to intervene.
"They (European and U.S. politicians) have to find a common language (with Russian President Vladimir Putin). I don't know whether it has to be economic pressure, or political pressure, or just kind words. Though we all already had a chance to see that Russia only understands the language of economic pressure or force. But they have to do it, this is their job," said her sister Vera Savchenko.
Savchenko who denies any wrongdoing is facing trial in Moscow but the court proceedings have been delayed. In response she is refusing food and drink and her supporters are concerned that her health is deteriorating.
The US Department of State has called for her immediate and unconditional release.
Savchenko is accused of acting as a spotter who called in coordinates for a mortar attack that killed the two Russian journalists as well as several civilians. IF found guilty she could face up to 25 years in jail.