Slovakia: ruling party expected to lose parliamentary majority
Comments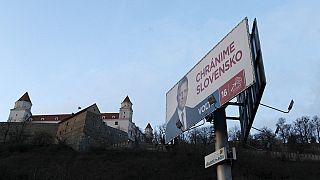 Slovakia has gone to the polls in a general election widely expected to result in a third term in office for incumbent Prime Minister, Robert Fico.
The leader of the Smer social democratic party ran a campaign that was vocally anti-immigration and anti-open-borders.
"Let's face it, the Schengen borders are like Swiss cheese," he said. "Thousands of people pass through into Europe without control. Yesterday, the overall chief of NATO in Europe, Mr Breedlove, said that along with migrants come thousands of terrorists and fighters for ISIL. That is why safety is the first priority for my government."
While opinion polls suggest Fico will beat his centrist opposition, it's predicted his party will lose its parliamentary majority, resulting in a coalition government.
His stance on free movement has been welcomed by some, but others say he should have focussed on more national issues, such as corruption scandals, and protests over low pay for teachers and nurses.
Brussels, meanwhile will be keeping a close eye on events in Slovakia, which is due to take over the EU's rotating presidency for six months from July, 2016.