Newlyweds Murdoch and Hall hold star-studded blessing service in London
Comments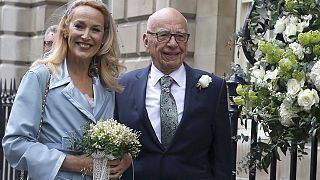 A day after their marriage, media mogul Rupert Murdoch and actress and model Jerry Hall have celebrated with a blessing service at St. Bride's church on London's Fleet Street, the spiritual home of British journalism.
Big name guests included actor Sir Michael Caine, former Rolling Stone Bill Wyman and Irish rock star Sir Bob Geldof.
Bill Wyman and Bob Geldof at #Murdoch#JerryHall wedding. See who else is there here -https://t.co/9gOy1aQ6oYpic.twitter.com/NMvgbDPfs8

— Telegraph Pictures (@TelegraphPics) 5 mars 2016
Murdoch and Hall wed on Friday in a private ceremony in central London, after which the now four-times married 84-year-old said he was the happiest man in the world.
No more tweets for ten days or ever! Feel like the luckiest AND happiest man in world.

— Rupert Murdoch (@rupertmurdoch) 4 mars 2016
On Saturday, Murdoch, executive chairman of News Corp and owner of 21st Century Fox Inc, and Hall, 59, posed for photographs after the service at the historic church, but simply smiled and made no comment to the waiting media.
Texan model and actress Hall, who was previously in a long-term relationship with Rolling Stones singer Mick Jagger,
was wearing a pale blue chiffon and silk wedding gown, reported to have been designed by Vivienne Westwood.
Murdoch was dressed in a navy suit, white shirt and brown shoes. He sported a single white rose in his breast pocket.
Newly wed Rupert Murdoch and Jerry Hall celebrate their marriage at Fleet Street church https://t.co/9eNj3JaxLwpic.twitter.com/Zw6jSptURj

— Daily Mail U.K. (@DailyMailUK) 5 mars 2016
The couple's 10 children from previous relationships attended the service, as did Rebekah Brooks, who returned to run Murdoch's British newspapers in September.
St. Bride's is located on Fleet Street, where Britain's major newspapers were located from the 1700s to the 1980s.
Murdoch had an instrumental role in Fleet Street's demise as a press hub when he moved his print works to east London.