Tokyo 2020 stadium could pose fire hazard after Olympic flame oversight
Comments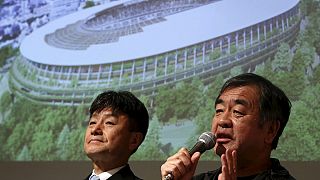 Organisers of the Tokyo 2020 Olympics faced an additional problem with their new main stadium on Friday, after it was found the installation of a cauldron could pose a fire hazard.
The design for the main stadium, drawn up by architect Kengo Kuma, did not include plans for a cauldron, and concerns have been raised that now placing the Olympic flame on top of the partly wooden roof could violate the Japanese Fire Service Act.
The placement of a cauldron on the wooden beams could also cause the entire roof to collapse due to the immense weight, Japanese officials claimed, while the wooden seats would exacerbate the fire risk.
A review panel, chaired by Olympics minister Toshiaki Endo, has since been convened by the Japan Sport Council (JSC). A decision is expected as early as April, in a bid to minimise construction delays.
It is understood the panel will explore options to keep the cauldron within the stadium – the scenario preferred by the organisers as well as the International Olympic Committee.
Though common for the winter editions of the Games, such as at Sochi in 2014 and at Vancouver in 2010, having the flame outside the stadium in Tokyo would be unprecedented for a summer Olympics.
"When we asked the organising committee about what it wanted for the stadium, no mention was made about having the Olympic cauldron within the stadium," a senior Japan Sport Council official told the newspaper Asahi Shimbun.
"We did not consider the location of the cauldron when we were seeking out new designs," he said.
An IOC spokesperson was not immediately available for comment.
The oversight is the latest embarrassment for the Tokyo 2020 organisers, who in recent months have had to scrap both its Games logo over accusations of plagiarism and the original design for the new stadium following ballooning costs.
The self-proclaimed reputation as a "safe pair of hands" to host the Games was further cast into doubt when officials reneged on a promise to keep most venues within eight kilometres of the Olympic village, to cut costs by a third.