Syrian pair jailed over death of refugee boy Aylan Kurdi
Comments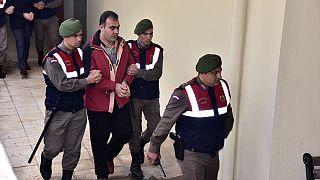 A Turkish court has jailed two Syrians over the drowning of toddler Aylan Kurdi and four others including his mother and brother.
Each sentenced to four years and two months in prison for people smuggling, the pair were cleared of causing death through conscious neglect.
Images of three-year-old Aylan's body washed up on a beach in southwest Turkey last September sparked global sympathy for migrants. He died among a group of migrants trying to reach Greece by boat.
Since his death, the European Union has faced a growing crisis over how to deal with hundreds of thousands of migrants from Syria and elsewhere, in a crisis that threatens to tear the 28-nation bloc apart.
Syrian people smugglers jailed over death of Aylan Kurdihttps://t.co/aXGOLySSVm

— TIME.com (@TIME) 4 mars 2016