Hollande and Merkel stand together on migration ahead of EU-Turkey summit
Comments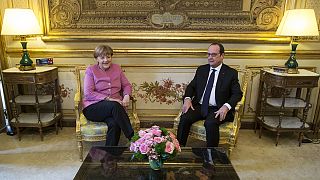 The French and German leaders presented a united front over Europe's migration crisis on Friday, ahead of an emergency EU summit with Turkey on Monday aimed at stemming the flow.
Hosting Chancellor Angela Merkel in Paris, France's President Francois Hollande also briefed journalists on a telephone link-up with the Kremlin over Syria's fragile truce, amid claims that President Assad and his allies have continued to bombard moderate opposition groups.
"We restated that this truce is an opportunity to accelerate discussions and open a process of political transition," Hollande said of the phone call which also included Britain's David Cameron and Italy's premier Matteo Renzi.
"The Russians, through the voice of Vladimir Putin, accepted this principle of negotiations on the basis of UN resolutions."
On migration, the leaders backed moves to restore Europe's severely tested Schengen open border area
But Chancellor Merkel stressed the need to protect Europe's external borders – something she said Germany and France agreed on. She said this was necessary to guarantee freedom of travel within Europe and to move away, step by step, from border controls.
Last year over 1.2 million people, mainly Syrians, Afghans and Iraqis, made initial applications for asylum in the EU – a record figure more than double that of the previous year.
The figures were released on Friday by Eurostat, the statistical office of the European Union.
1.26 million first time asylum applicants registered in the EU in 2015 #Eurostathttps://t.co/hpRcn2Gs9Fpic.twitter.com/TGVyJ223UY

— EU_Eurostat (@EU_Eurostat) March 4, 2016
Recent border restrictions imposed by several countries have left thousands of migrants and refugees trapped in Greece, prompting warnings of an imminent humanitarian crisis