Flooding adds to misery of migrants stuck on the Greek-Macedonian border
Comments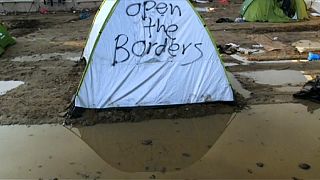 Bad weather is adding to the misery of thousands of migrants blocked at the Greek-Macedonian border.
Heavy rain has flooded parts of the makeshift camp where up to 12,000 people have sought refuge.
Children and the elderly are among those living in cold and difficult conditions at the Idomeni camp.
Syrian migrant Intisar Ali, who is nine-months pregnant, said: "This is full of water, so the people come here, and seven persons, and our bucket is full of water, so it's so cold.
"And you see our clothes, all of this full of water because we didn't have a place."
Those affected by the flooding have tried to salvage what they can of their few possessions.
Another migrant, Taha from Aleppo in Syria said: "You can swim and sleep at the same time."
Only a handful of migrants are being let through the border every day, causing a long agonising wait for those seeking asylum.
The images here are coming to symbolise the migrant crisis in Europe and the failure to find adequate solutions.
#Greece: Thousands trapped at #Idomeni border crossing https://t.co/hvzxDYo2sCpic.twitter.com/71FWHaBoyh

—

MSF

International (@MSF) March 4, 2016
#Idomeni: families are spending their 10th day w/o proper shelter. More support is urgently needed. #ProtectHumanitypic.twitter.com/yYiy2Wylao

—

IFRC

(@Federation) March 1, 2016
We met Eizeddin from Syria. He's w/ his family who are sleeping in tents waiting near the Idomeni border in Greece. pic.twitter.com/X4oo9v5PSe

— UN Refugee Agency (@Refugees) March 2, 2016
It's No Surprise That Chaos Broke Out In Idomeni #refugee camp https://t.co/WR3BUdgwJN via TheWorldPost</a></p>&mdash; Save the Children US (SavetheChildren) March 1, 2016
Situation deteriorates in #Idomeni as thousands are stranded without food, water & basic supplies. #ProtectHumanitypic.twitter.com/4Qicowck8X

—

IFRC

(@Federation) March 1, 2016
Drone footage from #Idomeni, near Greece's border, where thousands of migrants and refugees are stuck. No words. pic.twitter.com/wCTJZdGKKj

— The Greek Analyst (@GreekAnalyst) March 2, 2016