[Watch] Toddler falls out of moving van on motorway
Comments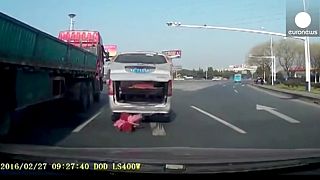 A two-year-old toddler had a lucky escape on Sunday (27 March) when he found his way out of the boot of his Grandfather's van in the middle of a busy motorway in the city of Suzhou in east China's Jiangsu Province.
Video of the bizarre incident, which was captured on the dashboard camera of the car behind, shows the moment the boy's grandfather drives off after losing his small passenger, apparently not noticing that the child had freed himself from the front passenger seat, made his way through the car and somehow opened the boot, falling out into the path of oncoming vehicles.
Luckily the people in the car behind scooped the child up before any harm could come to him and set off in pursuit of his guardian, who had only just noticed his missing passenger.