UNHCR warns Europe is on the cusp of a largely self-induced humanitarian crisis
Comments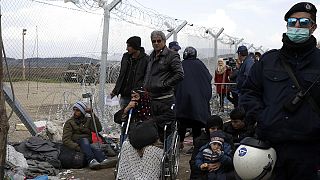 The United Nations High Commission for Refugees has warned Europe is on the cusp of a largely self-induced humanitarian crisis.
Much of the evidence it says is in what is happening in refugee camps near the village of Eidomeni which lies on the Greek border with the former Yugoslav Republic of Macedonia. Around 8,500 of the 24,000 migrants needing accommodation in Greece are here.
Crowded conditions had forced 1500 to spend the night in the open at the start of this week and have led to shortages of food, shelter, water and sanitation. It means a long wait for the basics.
"We have to stay for the water in line for maybe for four hours, five hours, you don't know there is 7,000 people and there is just one place giving water and food," explained one migrant,Ibrahim from Syria
Data from the UN agency predicts that by the end of March between 50,000 and 70,000 migrants will be in Greece. On the border Greek authorities have responded with the military setting up two camps while a third is under construction.
Macedonia is the first country on what is known as the Balkan route used by migrants arriving in Greece on a journey they hope will take them to central and northern Europe.
On Sunday Macedonia let few cross the border, until at midnight 300 Iraqis and Syrians were allowed through. As others were denied the chance to cross, at midday tension sparked into violence as hundreds, including women and children attempted to break through before being pushed back in the face of guards firing tear gas.
The UNHCR claims governments are failing to work together despite having already reached agreements in several areas. Inconsistent practices, it says, are causing unnecessary suffering and risk being at variance with EU and international law standards.
The border post which separates Macedonia and Greece will open once or twice a day or perhaps not at all. Between 50 to 300 are allowed to cross at any one time, rarely more than that.
This has led the UNHCR to voice concerns that the situation could escalate into a humanitarian crisis similar to that on the Greek islands last autumn.
UNHCR urges Greece & States along Balkans route to act quickly and approach this emergency with solidarity. pic.twitter.com/kN8y7yyBOu

—

UNHCRN

ews (@RefugeesMedia) March 1, 2016