Record-breaking Vonn ends season early due to injury
Comments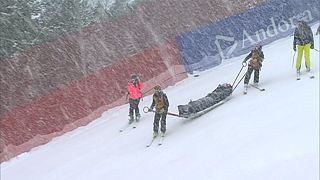 Lindsey Vonn's season has come to a premature end after the American Speed Queen announced she has withdrawn from the current campaign due to multiple fractures in her tibial plateau.
She suffered the injury in a crash in Andorra on Saturday during a super-G race.
Initial X-rays indicated a hairline fracture and she went on to compete the following day but a later MRI scan revealed the extent of the damage prompting her decision to withdraw.
Record breaking Vonn – who secured an eighth career downhill title last month – does still lead the season standings, but a fifth career overall world cup crown now seems highly unlikely.
Principle title rival Lara Gut of Switzerland will look to take full advantage as she trails Vonn by a slim 28 points with only eight races to go as she hunts a maiden World Cup overall crown.
Today I am making the difficult decision to end my season and leave the World Cup circuit due to an injury I suffered last Saturday. Because I am currently leading the Overall World Cup standings, this is one of the toughest decisions of my career. When I crashed on Saturday in Andorra, I fractured my tibial plateau. The traditional X-rays that were taken that afternoon showed a hairline fracture, but the tibial plateau appeared to be stable and did not pose significant risk to competing. So I raced on Sunday. After the Super Combined on Sunday, I went to Barcelona where more precise MRI and CT equipment was available and scans were performed on Tuesday morning. Those images showed that there was not just 1 hairline fracture, but in fact 3. And the fractures are not hairline, but instead they are significant enough that they are not sufficiently stable to permit me to safely continue skiing. Further damage any of the fragments could result in a serious surgery that would risk my future in ski racing. With the World Championships in St. Moritz next year and the Winter Olympics in South Korea the following year, I cannot take that risk. So I have made the decision to end my season. I am very proud of what I have been able to accomplish this year: 9 World Cup victories, breaking the World Cup downhill win record, breaking the World Cup Super G podium record, and winning the most World Cup discipline titles-20—of any skier, male or female. While I am confident that I'm making the right decision, it still doesn't make this decision any easier. Thanks to everyone who supported me and stood by me through it all. Best of luck to all the World Cup competitors. I'll see you again next year. Xo LV
Vonn leads the overall World Cup standings with 1,235 points, followed Gut with 1,207. Viktoria Rebensburg of Germany is third with 914.