EU unveils multi-million aid plan to help ease migrant crisis
Comments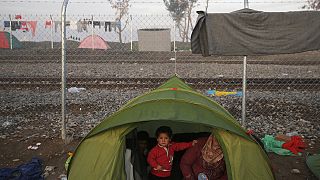 The European Union has agreed a 3-billion euro aid deal with Turkey to help it shelter refugees, mainly from Syria, in return for preventing their travelling on to Europe.
The move is being widely seen as a response to the crisis as winter weather takes hold.
Tarek, a Syrian migrant from Aleppo said help is needed urgently: "There is not enough tents, because this is very small, two persons, three persons inside, you see old people outside they sleep and wet. It's too cold."
The European Commission has also proposed spending an extra 700-million euros over three years to help countries like Greece, struggling to cope with the influx of thousands of migrants.
New temporary border controls in order to stem the flow of people has led to a rapid build up of migrants at the border with Greece and the Former Yugoslav Republic of Macedonia.
With tens of thousands now trapped, the United Nations has warned of a humanitarian disaster.
EU leaders are planning talks with Turkey next week and their own migration summit on March 18.