EU launches emergency aid fund as Greece struggles with migrant crisis
Comments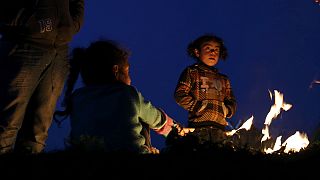 Greece struggling to cope with build up of migrants
UN warns children most at risk
EU launches 700 million euro emergency aid fund
Migrant children are at risk of poor health and abuse – that is the assessment of UNICEF. The UN aid agency has described a desperate situation developing along Greece's northern border which has been unilaterally closed by its neighbour. Infants, it says are suffering from a lack of food, sanitation and face risks of abuse or separation.
Greece cannot be left alone to cope
"We are worried from sick, from the cold, we need clothes to our children, we need a place to stay. You see our tents, seven persons, as I say, I tell you we buy these tents," said Intisar Ali, a pregnant refugee from Iraq.
Greece has around 100,000 asylum seekers. About 24,000 migrants are in need of housing and more than 8,000 are stuck in the worsening conditions. The main camp at Indomeni is overwhelmed.
Greece is becoming "a warehouse of souls" for trapped refugees https://t.co/so7myY5TIspic.twitter.com/Cvpyjkjcns

— The New York Times (@nytimes) March 2, 2016
"Unilateral decisions in terms of closing the border bring chaos. This situation is inching towards a humanitarian crisis and Greece cannot be left alone to deal with this, " said UN High Commissioner Barbar Baloch.
In response the European Union has launched a new aid programme worth an initial 700 million euros that mirrors the kind of disaster relief it offers developing nations. EU officials have said the aid plan will allocate 300m euros this year to help any EU state deal with the migration crisis. The 700m euros will be made available over three years.
The money, to be spent in conjunction with the UN in both Greece and other EU nations, will help to fund shelter, medical aid and other basic services.
However, the EU also wants Turkey to slow the influx of refugees and migrants and the bloc wants Ankara to ensure that daily arrivals fall below 1,000 from 2,000-3,000 at present.