Croatian PM calls for more EU help with refugees
Comments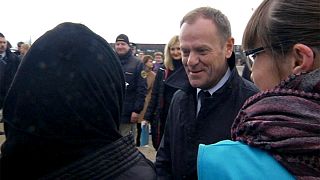 Croatia's prime minister has called on the EU to do more to help governments struggling with the influx of refugees and migrants.
Croatia is one of the countries on the now infamous Balkans route that people from the Middle East and Africa have been using to head towards norther Europe.
"You all know that we have our police forces in Macedonia and i have to say that we have excellent coordination between Austria, Slovenia, Croatia, Serbia and Macedonia," said Tihomir Orešković, the Croatian prime minister.
"I have to say that we expect stronger support from the EU so that we can help Macedonia."
The Croatian premier's comments came after talks with European Council president Donald Tusk, who is in the region ahead of a key EU meeting on migration this coming Monday.